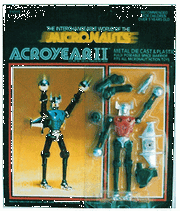 Acroyear II


Figure Facts
Size
3.75" (10cm)
Alignment
Evil
Composition
Die-cast metal and plastic
Accessories
Wing-pack, bazooka, wheeled limbs
Series
Series 2 (1977)
Variants
Precursor
Takara Microman Acroyear A30x
The second Acroyear figure in the US, Acroyear II centered on a die-cast body with all parts interchangeable using the 5mm system. Armed with a "bazooka" silver-tipped missile launcher, all his limbs could be replaced with wheeled equivalents, allowing Acroyear II to become a vehicle of sorts. His fixed silver wingpack and silver ball fists rounded out his sharp looks.
Initially issued in a matte silver finish, the figure soon became a predominantly painted figure on its die-cast parts, predominately red or occasionally the blue pictured on the card photo. The early chrome look versions had a slightly different placement of the parts in the bubble plastic.
Acroyear II was not as sturdy as Acroyear. His limbs often held more tension at first at the joints then could be overcome with reasonable pressure, leading to frequent breaks. Over time, the parts would loosen, then leading to balance problems with the top-heavy die-cast body too much for the thin plastic limbs to support.
Microman
[
]
In Japan, this figure was the original Acroyear, with the US Acroyear as the "sequel" Acroyear II. Colored versions in Japan retained a metallic, rather than painted finish, more akin to Space Glider's finish.