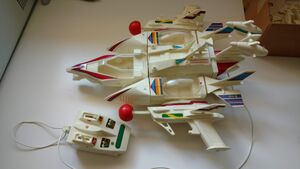 The king of Micronaut vehicles, the Battle Cruiser was many ships in one. Roughly delta shaped, in its base configuration the Cruiser could hold four figures, was motorized with either direct or wired-remote control, and featured two giant soft-tipped missile launchers in the wing guns, as well as two top-mounted mini-launchers with hard tips. A figure on the top "sled" seat could at the push of a button slide forward and down into the front cockpit (assuming that was left unoccupied).
The Battle Cruiser could break into several smaller ships, with the forward cockpit equipped to eject from the main ship, the wing pods detachable into fighters, and the wings themselves doubling as scooters when attached to included wheels. The rear controller, when detached from the main ship, held its own hard-tipped missile launcher as well.
Unusually for a Micronaut, the wings could double as hand-held pistols for humans.