| Credit | Name |
| --- | --- |
| Writer | Bill Mantlo |
| Penciller | Michael Golden |
| Inker | Josef Rubinstein |
| Letterer | John Constanza |
| Colorist | Carl Gafford |
| Cover Artist | Michael Golden |
| Editor | Al Milgrom |
| Editor in Chief | Jim Shooter |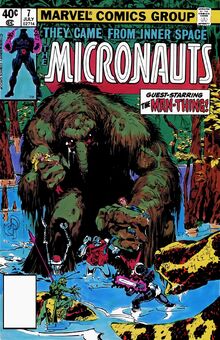 Adventure Into Fear!

[

]
In Florida, Steve Coffin and The Micronauts battle The Man-Thing, an empath who is drawn to Steve's grief.
Unbeknownst to Steve, his father Ray has fallen into the Microverse where he is approached by the Time Traveler. He offers, with the aid of the Enigma Force, to bestow powers on Ray that will help him defend his planet.
Phillip Prometheus, also adrift in the Microverse, encounters Baron Karza - to whom he divulges the secret of the Prometheus Pit!