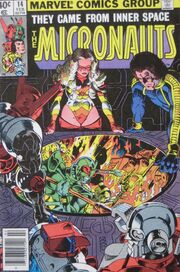 A Hot Time on the Old World!
Bug leads his insectivorid comrades in a raid on the air terminus headquarters of Baron Karza's colonial government on Kaliklak. His father joins the fight, is shot down in an aircraft, and killed. Eventually, the rebels oust the governor and loot the outpost.
Meanwhile, Agent M from S.H.I.E.L.D. approaches the Fantastic Four and asks if they know anything about the Micronauts, and Acroyear abandons his kingship and together with Cilicia rejoins his former companions.