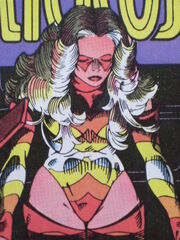 Princess Mari was an Elitist on Homeworld. She is Prince Argon's sister. She has also been known as Marionette since disguising her identity by posing as a roboid show-doll who would dance on strings manipulated by Microtron. She carries a lasersonic pistol--and she's a good shot with it!
First appearance: Micronauts, Vol. 1, No. 01
"Princess Mari of Homeworld's Royal Family--she saw her parents and brother killed or captured in a coup d'etat, and is as fierce in her desire for revenge as she is in her hatred for [Baron Karza]."